Decades of Commercial Roofing Experience
Ideal Precision Roofing and Exteriors, Inc. has been repairing and installing commercial roofing for decades. We are an approved Versico installer and qualified in multiple roofing material applications. With our decades of experience, we have the technical know-how and hands-on experience to install commercial roofing on all types of buildings. If your project involves a large flat or low-slope surface, or a combination of low-slope and steep grade or any variation thereof, Ideal Precision Roofing is a top choice.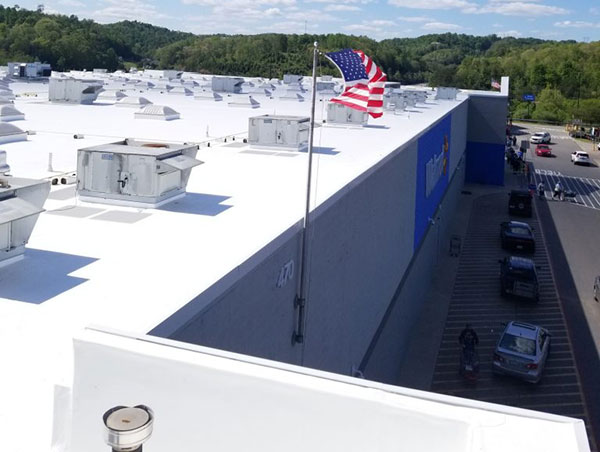 At Ideal Precision, we have seen a lot of interesting issues! Old buildings, new construction, retro-fit … you name it. When it comes to low-slope roofing, we've done it – and with outstanding results! We have very strong relationships with all the best commercial manufacturers, which provides you with unparalleled quality and guarantees.
Trust Us for Top-Notch Commercial Roofing Repair
Commercial roof repair can be a big job, covering what sometimes can be acres of area. Dealing with large numbers is the basic difference between commercial roof repair and residential home repair. Different materials are used because oftentimes the aesthetic value of a residential roof is of greater importance than a commercial one, but that doesn't mean you won't see some beautiful commercial roofs! All in all, commercial roof repair is simply an ongoing task every business should be ready for.
Our Commercial Roof Repair Practices
The basic difference in a flat roof versus an angled covering in commercial roofing is one of preference. Both will require timely maintenance. For flat surfaces that are smooth, it will require cleaning in preparation for repair. If there is wet insulation under the membrane, it will need to be removed and replaced. If there is damage to the beams or structure, it will be repaired at this time. After a new surface is installed, a total replacement will be required. If there are only certain areas that need attention, the process is achieved by cutting out the old and replacing it with new layers and new coating. Elastomeric coatings are used for the superior expansion characteristics that are required in climates with extremes in temperature. Commercial repair for a flat surface is done similarly to any other flat roof.
For a TPO commercial roofing system, repairs are dependent on the age of the roof. A TPO covering has membranes that age under the stress of sun, wind and rain. Repairs are accomplished by using a heat welding process. The surface is scuffed up, primed with a primer and a sealant is used to finish. This ensures your roof can continue to serve you for years to come.
Schedule a Free Roof Inspection Today
Get the best guarantees, quality and value in commercial roofing. Call Ideal Precision Roofing and Exteriors today for a FREE project analysis and job estimate. Call us at (210) 485-1553 or submit the convenient contact form, and we'll be sure to respond as soon as possible.