Experienced Residential Roofing Contractors
Our residential roofing contractors are here when you need us! If you live in Houston, San Antonio or a surrounding community and are having issues with a leaking or damaged roof, call Ideal Precision Roofing and Exteriors, Inc. for a free inspection. We will evaluate your roof and provide you with a competitive quote to repair or replace it.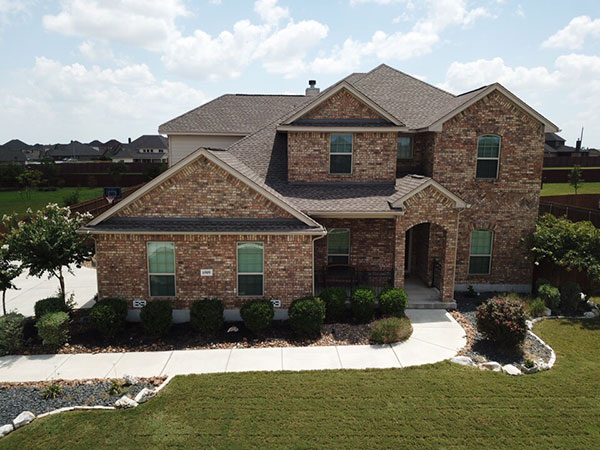 What Causes Roof Leaks
Roof leaks can be caused by many things. Storm damage from hail or wind, damage from falling limbs, damage from people walking on your roof, worn-out shingles, cracked and sun-damaged shingles … the list goes on and on. However, 90% of all roof leaks are caused by improper installation or by defective metal flashing. Rarely does the actual roofing product fail. Flashing is found near any roof penetration such as around the chimney, step, apron and valley areas, where roof angles join together.
During a residential roofing repair, it is necessary to look for any other roof damage that could lead to additional problems. If leaks are not addressed, the structure of your home may be weakened as the building frame continues to be exposed to moisture. In addition, the possibility of poorly installed roof shingles, which are sometimes nailed incorrectly, may need to be addressed. If roof shingles are missing, these will also need to be replaced.
Clogged gutters can be another cause of roofing problems. Water may flow over the back of the gutter and leak into the walls and inside of the home. In addition, flue pipes inside a chimney can cause a leak if they are not properly aligned.
When to Call for Professional Roofing Services
It is very important that property owners check their roof regularly. Most opt to check during the springtime because of the fair weather and, for most people, spring storms and heavy rains make you more aware of your roof's integrity! Our fair weather in San Antonio provides year-round opportunities for you to replace or repair your roof, so don't wait! Call Ideal Precision Roofing for a free analysis and estimate on your repair or replacement.
Schedule a Free Roof Inspection & Estimate Today!
If you need the services of a certified residential roofing in San Antonio or Houston, be sure to get in touch with Ideal Precision Roofing. Call us at (210) 485-1553 or submit the convenient contact form and we'll be sure to respond ASAP.